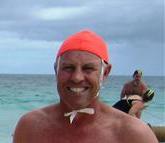 The late Gary Tierney joined the Point Leo Surf Life Saving Club in 1964 as a junior member and retained a passion for the club until his untimely death in November, 2009.  A champion surf swimmer, Gary served for many years on the Point Leo committee, holding various positions including club president.  Behind the scenes, Gary also generously provided significant financial support to the club and individual members, as well as fulfilling an important mentoring role.
To perpetuate Gary's memory the club established the Gary Tierney Foundation in 2010.  A separate Advisory Board administers the Foundation under a legally constituted governance charter and investments are restricted to those approved under the Trustee Act.  The Foundation's Patron is Louise Tierney and the Board includes three past presidents of the Point Leo SLSC, a member of the Tierney family and club members with appropriate legal, investment and commercial expertise.
The Foundation provides financial support and guidance to enable younger members of the club to fulfil their potential in surf lifesaving.  Fellowships and Grants recognize and assist individuals who demonstrate the best of lifesaving – integrity, leadership and loyalty – and who have the potential to make an ongoing contribution to the club and lifesaving. The Board has established guidelines to assist it in ensuring that grants are applied to deserving recipients who require or otherwise will benefit from financial support.
An Enduring Legacy
The Foundation is already well established with several generous donations having been made, including from the Tierney family and the Club itself.  As at June 2014, just four years after its establishment, the Fund balance was some $186,000, very near the capital target of $200,000.  The Board aims to securely invest the capital base and to leave this intact, drawing only on the income that can be generated. This will ensure that the Foundation has an enduring benefit for decades to come.
Practical support for young lifesavers
Lifesaving is built on three pillars: Saving Lives; Creating Great Australians; and Building Communities. At its core is the spirit of volunteering and being involved. There are times however when our young lifesavers – so willing to give their time and energy – struggle with the cost of their participation. Maintaining their own equipment, travelling to training, giving up hours in their part time jobs to patrol on the beach or to tutor others can become prohibitive, especially for young people with limited incomes.
The Foundation assists these committed young people by helping with these costs. Support is provided in two main ways: three year Fellowships; and short term grants for specific purposes. The foundation also supports its fellows with mentoring and other personal support.
The Gary Tierney Foundation reinforces that Point Leo SLSC is a club with not only a proud past, but a secure future; one that encourages and supports its members in practical ways.
Gary Tierney Foundation Fellows
Lachlan Pearse (2011)
Victoria Roadnight (2012)
Tom McFarlane (2012)
Rose Anderson (2013)
Jack Garner (2014)
Zachary Richter (2015)
Isabella Ford (2015)
Caleb Gray (2016)
Andrew Nott (2017)
Brittany Morgenthaler (2017)
Lachlan Robinson (2018)
Samuel Richardson (2019)
Joshua Doherty (2019)
Rhys Cole (2020)
Ella Laussen (2021)
Caitlin Robinson (2021)
Isabella Austin (2021)
Harry Atkins (2022)
Romy Lipszyc (2022)
 Tax Status and Governance
The Gary Tierney Foundation Fund is a sub-fund of the general Gift Fund of the Point Leo Surf Lifesaving Club Incorporated.  The Club has been endorsed by the Australian Taxation Office as a deductible gift recipient in respect of its general Gift Fund. The Foundation was established to support and raise funds for the Club consistent with its purposes and in particular to provide financial support to allow younger members of Point Leo SLSC fulfil their potential in surf lifesaving
As a sub-fund, the Foundation's finances are audited as part of the Club's Statutory Audit. A separate account is maintained to ensure that all amounts donated to the Foundation are quarantined and only used in accordance with the approved purposes as specified in the Foundation's Governance Charter. The Foundation's Charter was approved by the Club Committee in December 2010 and the Grant Policy was updated in 2014.
The Foundation's patron is Louise Tierney. Advisory Board Members as at January 2020 were:
Tom Mollenkopf (Chairperson)
John Horwood
Haydn Tierney
Kelvin Anderson
Tamara Brawn
Luke Treadwell
Isabella Ford
The Board meets formally anywhere between four and ten times each year.
Grants Policy
The Foundation has established a Grants Policy and it has published Guidelines for Nominations. These are available on the Downloads section of the Point Leo SLSC website.
The Board seeks nominations publicly, via the Club Committee, or it may nominate of its own motion following any consultation or enquiry it considers appropriate. The Board generally calls for Fellowship nominations in October each year. Applications for single purpose Grants may be made at any time. All applications or enquiries are treated confidentially. Respecting the privacy of individuals, details of Single Purpose Grant recipients will not ordinarily be publicised.
The Advisory Board is happy to discuss its work and any donor queries.
Contacting the Fund:
Mail: Point Leo Surf Life Saving Club Inc.
Gary Tierney Foundation,
P O Box 472, Balnarring, Victoria, 3926
Phone: Tom Mollenkopf
Chairperson, Advisory Board
0422 631 876 or 03 5989 8624
Email: admin@pointleoslsc.com.au
OR mollenkopf@bigpond.com