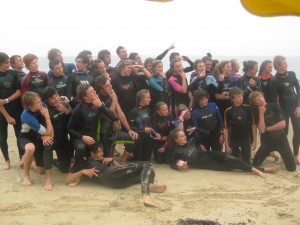 The Bronze Camp is a six day live in camp held in December each year. Principally designed for our budding younger members, participants train for their Surf Bronze Medallion (Certificate II in Public Safety – Aquatic Rescue), the core qualification of every Surf Lifesaver. To attend, candidates must be 15 years of age on the date of the examination and be able to swim 400m in 9 minutes or less.
The 2019 Bronze Camp dates are Sunday 15th December to Saturday 21st December 2019.
Registrations for this year's camp for current members of Point Leo SLSC are now open. Details on how to register will be advised in the weekly club notices email.
The waiting list for new members (aged 15+) to Point Leo who want to participate in this camp will open in August 2019. Please note this camp is not open to adults.
During the training camp, participants complete both theory and practical requirements, with a focus on the following key areas:
Surf Awareness
Emergency Care
First Aid
Resuscitation  (CPR)
Radio Operations and other communications
Surf Skills
Surf Rescue Skills
Patrol Operations
On the last day of the camp participants will be examined by officials from Life Saving Victoria for their Bronze Medallion.
Successful completion of the Bronze Camp and also the Bronze Medallion examination will qualify participants to become an active member of the club.
For further information please email the Club Chief Instructor at lifesavingtraining@pointleoslsc.com.au