Welcome to the Lion's Den – our Cadet Program
(Winner 2021 Lifesaving Victoria Outstanding Achievement Award)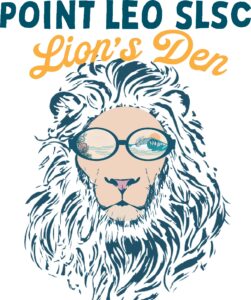 The Lion's Den offers a range of surf lifesaving and social opportunities for our 14 and 15-year-old Cadet members.
Specifically, The Lion's Den provides our Cadets with further opportunities to:
Be a valued and active member of the Club
Do fun things and keep in touch with lifesaving friends
Keep up lifesaving skills and fitness
Learn new lifesaving skills and discover new experiences
Understand how other parts of the Club operate
Be inspired to stay involved in surf lifesaving over the longer term
The Lion's Den has been created to provide our graduated Nippers with heaps of opportunities to be involved in the Club – armed with their SRC Award qualification.
Organised 'Den' Activities
The Lion's Den Swim Camp (for our 14-year old's) – The day camp concludes with (optional) participation in the Portsea Swim Classic. Come and be part of the Point Leo Youth team!
The Lion's Den Social Activity
The Lion's Den water and beach sessions for all Cadets– practise the skills developed in Nippers at a number of dedicated sessions 
First Aid Course– come and gain a new qualification
Life Saving Awards
First Aid
Provides participants with the skills and knowledge to manage an emergency first aid situation until professional medical support is available. Participants will become a specialised first aid patrolling member. They can further develop their skills by completing additional emergency care awards.
Bronze Medallion
The Point Leo Bronze Course is held in December each year and is open to financial members of the Club.
Participants must be a minimum of 15 years of age on 30th September in the year they complete the course. There is a theory component and a physical component (successfully complete a 200m run, 200m swim, 200m run within 8 minutes) to the qualification. All prospective participants must have completed a 400m swim in 9 minutes or less in a swimming pool or measured open water course before training starts in the surf.
A participant does not need to have an SRC qualification as a prerequisite for Bronze Medallion.
Patrolling
Come along and patrol with your lifesaving friends!
All Cadets with their SRC or Bronze qualifications are automatically allocated to a Patrol group with friends. The season's patrol roster is released and emailed to members at the start of the season in November and covers all rostered patrols for that group until the end of the season.
Nipper Activity Leaders and Water Safety Leaders
It's all about making sure our Nippers are safe and have fun. Nippers just love seeing the older kids come back and help them out.
We always love to see our graduated Nippers return and be part of the Nipper sessions.
You are always welcome, and we always need experienced Cadets helping as Water Safety and as Activity Leaders.  Only people who have their SRC or Bronze Medallion have the skills to do these jobs – and that's why WE NEED YOU!
If you are interested in becoming an Activity Leader for intensive Junior Surf Lifesaving Program (JSLP), please contact us via our contact form with the subject line: Nipper Activity Leader
LSV Youth Carnivals – Join our Pride!
Every Under 15 can represent Point Leo at the Life Saving Victoria (LSV) Youth Carnivals with their lifesaving friends, practising all of the skills acquired during the season and past seasons. There are many individual and team events offered at each carnival such as: flags, sprints, swimming, board paddling, board rescue, relays and more. At these carnivals, Point Leo Under 14 and Under 15 competitors participate in activities together as one 'youth' cohort. The Youth Carnivals are scheduled to run alongside the Senior LSV carnivals at the same venue (often at opposite ends of the beach). They are not part of the LSV Junior (Nipper) Carnivals.
Our 15 year old Cadet (Under 17s) competitors are part of the Senior LSV Carnivals and must have their Bronze medallion to compete.
For more information, please contact us via our contact form with the subject line: Surf Sports
Pool Life Saving
LSV's Pool Life Saving competitions are scheduled during the months of June to September. Point Leo SLSC has a group of enthusiastic members who participate regularly. There are some individual and team events to enjoy keeping up your health and fitness in the off season.
LSV offers regular training sessions for those who would like to give it a go and practise their skills.
It is lots of fun!
Individual events: 50m Manikin Carry, 100m Manikin Carry with Fins, 12.5 Line Throw, 100m Manikin Tow, 200m Obstacles, Super Lifesaver
Team events: 4 x 50m Obstacle Relay, 4 x 50m Medley Relay, 4 x 25m Manikin Relay
For more information, please contact us via our contact form with the subject line: Pool Competition
Social Events
The Club has a number of other social events that are organised during the season. Keep a look out in the club newsletter for details about: Muso Night, Trivia Night and much more.
Helping Out
There are lots of other ways to help out and use your great skills at Point Leo SLSC. Keep a look out for details about our Disabled Surfing Day (mid-January) and our Multi-cultural Day (mid-January). We always need SRCs and Bronzies to help with water safety.
LSV Opportunities
LSV has many other ways to be involved in lifesaving.
Under 15 Leadership Development Camp
Held in each year, this is for 14 & 15-year-old club members. In the past couple of years, Point Leo has successfully nominated a number of members to attend the camp.
The U15 Leadership Development Camp aims to develop participants in the following areas:
Develop participants self – awareness, leadership and team-work skills
Inspire participants to stay involved in lifesaving through broadening their understanding of lifesaving pathways
Facilitate an environment to develop a network of friends across the state
Exposure to fundamental SRC lifesaving skills
Encourage participants to make a valued contribution back to their clubs
To participate, you must be nominated by the Club. Click here for more information. Ask the Point Leo Youth Development Vice President how to be considered for the camp.
LSVj
LSVj (LSVj Advisory Committee) is a LSV initiative that will annually recruit members (13-17 years), at all three levels of their committee.
LSVj Advisory Committee member
LSVj Area Representatives – appointed and voted on by the LSVj Club Representatives
LSVj Club Representatives – who are responsible for representing their own Club
Each of the three position's come with slightly different responsibilities, levels of commitment and areas of focus – which are outlined in the Position Descriptions below and attached.
The three positions, all have the following commonalities.
To represent youth member views, challenges, values and ideas
To support the development of Membership and Leadership Development Programs, which address current skill gaps
Provide additional pathways for youth members and improving retention of youth members through identification and supporting targeted programs
Support additional leadership pathways and participation for youth members through advocating, promotion and supporting
Be an active voice and participant in promoting Safeguarding Children as required by LSV
For further information about LSVj, please visit the LSVj webpage or contact the Club Youth Development Vice President.
If you are interested in being part of The Lion's Den and you will be a new member to the Club, please contact us via our contact form with the subject line: Youth.