The 2022/2023 Nipper programs are now full. We won't be accepting any further registrations of interest or email requests regarding this year's program. Registrations of Interest to participate in our 2023/2024 program will open on August 1, 2023.
The Junior Surf Sports Program (JSSP) includes 2-3 sessions per week from October to March to provide Nippers with additional fitness training and specific skills coaching on board paddling, swimming and iron. The program also supports Nippers interested in state or even national surf lifesaving competition. The JSSP has produced many state champions and national finalists. The program aims include:
Improving skills and confidence in surf
Developing fitness and training capability in running, swimming and board paddling
Building friendships and learning how to work in teams
For those interested, providing competitors with training at a frequency and intensity needed to complete successfully at a Junior State Surf Lifesaving level
Encourage a positive approach to training, fitness and competition
Training
Nippers must participate in the JSLP to be eligible for the JSSP and also pass the competition skills assessment (see table below) for eligibility to attend sessions run by qualified coaches for under 11 and up (under 9-10 by request) on:
Tues 5.30pm – 7.00pm (board and swim)
Thur 5.30pm – 7.00pm (iron)
Sun 10.00am – 12.00pm (board and swim)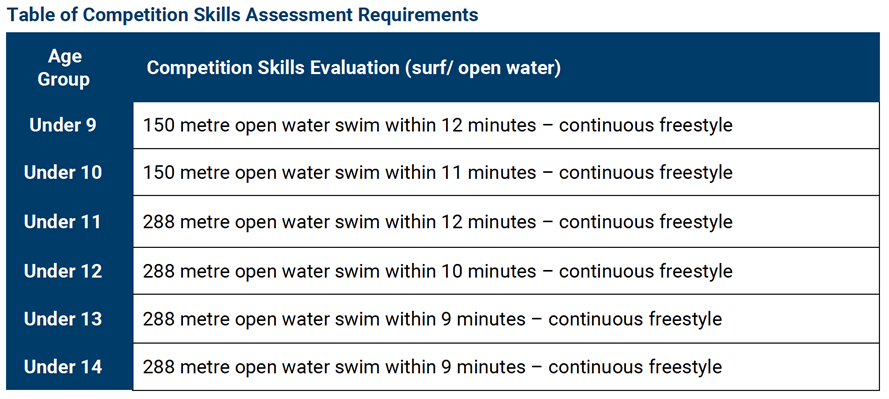 These sessions are mostly water and surf skills focussed, chasing surf wherever we can and working hard on developing the surf skills in a variety of conditions. The team of coaches are proud to have been able to introduce and teach high level surf skills to Nippers arriving at Point Leo that have never surfed before. The JSSP squad also loves a good team building game (polo flamingo, mass rescue, etc). Nippers forge respect for each other and develop friendships that will last a lifetime and go onto become highly valued members of the patrolling and senior surf sports program at Point Leo SLSC.
Development sessions are also available for under 8 and up to develop skills, confidence and fitness for Nippers that find the competition skills assessment challenging. The focus of these sessions is on working toward passing the competition skills assessment. There are also opportunities for beach (sprint and flag) training with specialist coaches over summer.
Competition
Junior (Nipper) carnivals between Victorian clubs are held at ocean and bay beaches each season on weekends from October until State Championships in March. Junior Carnivals are lots of fun and everyone is welcome! Nippers (under 8-13) are eligible to practice the skills acquired during the season in a carnival competition environment.
It's all about participation at Point Leo, and there are many different individual and team events to choose from at each carnival. At Junior levels our club focus is more on fun and learning rather than winning. A child's best is always good enough. Health, improvement and good sportsmanship are also primary goals. However, the club also supports Nippers wanting to excel in surf sports competition by way of our dedicated and experienced coaches. There are no Junior carnivals for the Under 7 and Under 8 do not compete in the State Championships. For a full description of carnival events see the Point Leo Junior Handbook (on the download page).
Competition fees are payable to cover the cost of carnival entry from Lifesaving Victoria. The "Cosy Corner" Junior carnival at Torquay (early January) is a great "come and try" carnival in gentle surf.
 Sunday sessions
 At the end of the JSLP there are Sunday sessions for Nippers under 9-14 until the State Championships focused on inclusion, participation, team building and further skill development run by the JSLP and JSSP team. These sessions are open to all Nippers who have completed the competition swim evaluation. The focus is all disciplines on the beach and in the water and extending our Nippers to further develop surf life saving skills whilst having fun.
Communication
 Members wanting updates regarding the JSSP training and competition should:
Download "Team App" from their app store or go to teamapp.com on a browser
Create an account
Search for "Point Leo SLSC"
Request access to the "Junior surf sports" access group
Go to the Junior surf sports "chat" and turn on notifications
All communication regarding JSSP training and competition occurs through Team App particularly last minute changes to training locations and carnival information. Information also is released through the club email.